A man has been arrested for the alleged serial murders of nine people, whose bodies or body parts were found in his apartment outside Tokyo.
Takahiro Shiraishi, 27, confessed to cutting up the bodies and hiding them in refrigerated cabinets, some covered with cat litter, a police spokesperson said.
Investigators found the bodies when they searched the man's apartment in Zama City, Japan, as part of an investigation into the disappearance of a 23-year-old woman earlier this month.
Police view the investigation as a serial murder case and said more charges will be laid when the results of DNA tests on body parts are known.
Local media reported that the bodies were those of eight women and a man, and are believed to have died between August and October.
The missing woman, believed to be one of them, had contacted the man via social media looking for someone with a suicide pact, and the two were captured by cameras from security outside train stations near the suspect's apartment, according to reports.
His brother had filed a request with the police for his search.
Local media said police first found the severed heads of two victims in coolers in the entrance to the apartment, then found the other seven while searching the suspect's apartment.
Police also reportedly found a toolbox and saw which they said could have been used to dismember the bodies.
Mr. Shiraishi told police he dismembered the bodies in his bathroom and put some body parts in the trash, Kyodo News Agency reported.
The man's neighbors told media they noticed foul odors near the apartment, but it's unclear why they didn't raise any alarms.
Police declined to comment on information about the number of bodies found on the property.
The gruesome case gained attention in a country known for public safety, topped the news with reports showing the building where the suspect lived in a small studio apartment.
It was cordoned off with yellow police tape, its balcony draped in blue plastic sheeting to block the view as investigators walked in and out.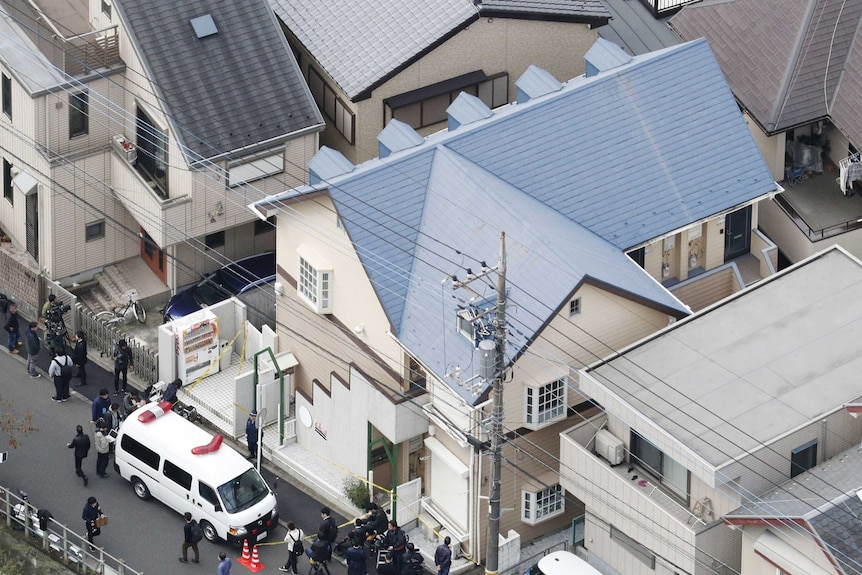 ABC / son